It started with a story. Then it became a zine. Finally, it grew into a podcast. Now it's been 10 years!
I'm Shannon Cason and I'm the host of Homemade Stories (you can listen here). My goal is 300 backers (who I call "friends") to help fund the podcast for 2019. Your support helps keep the show going uninterrupted.
When you become a Friend of Homemade Stories you support:
New Homemade Stories podcasts every two weeks.
More The Trouble style reporting, interviews, and storytelling.
New creative storytelling using video and animation.
An upcoming audio piece on missing black women & girls in Chicago & Detroit.
Opening storytelling and podcasting to new audiences through mentorship.
The sound editors, guest storytellers, and digital creatives that the show requires.
Your support even goes even further!
The Knight Foundation will generously match your support of this campaign, up to $35,000.
The more you contribute, the more they contribute!
Support Stories Today!

PODCAST EQUIPMENT CONTEST!
Samson Technologies awarded three podcast set-ups to backers of the campaign. That's the Samson G Track Pro & Samson SR850 Headphones. The 3 lucky winners listed below:
5/25 winner - Celeste Peterson - Chicago, IL
6/1 winner - Dan Watson - Fennville, MI
6/7 winner - Robert Fleece - Richmond, VA
The Fine Print (FAQ):
Digital rewards will ship in July.
Physical rewards are expected to ship in August.
After the campaign ends, we will send an email associated with your reward.
All t-shirt rewards will receive an email to gather style/color/size.
You will be notified of any necessary changes or substitutions
Detroit Boxes will vary but will be a curated collection of Detroit and Michigan based products, with the tee, mug, and water bottle included.
One-on-One Sessions begin in July
One-on-One participants must book using my Calendar app.
Zoom is the preferred meeting method for One-on-One Sessions.
One-on-One Sessions will max out at 1 hour.
Monthly donors, will receive their physical rewards along with everyone else.
When you sign up as a monthly donor, the donation automatically recurs on the same day each month unless it's canceled or the card expires. You can add an end date using the link in your emailed receipt or cancel.
I'm absorbing international shipping, so be mindful of my cost.
To access ShannonCason.com regular site - CLICK HERE
Think of these exciting rewards below as my way of saying "Thank You!"
Digital Homemade Stories Mixtape
Listen to songs from Homemade Stories with DJ Shannon Cason
The Original Homemade Stories & Stories from the Stage
Short stories and commentary in 2 ebooks.
Homemade Stories Stainless Steel Travel Mug
Coated stainless steel 14 oz. travel mug with a clear lid. Your new favorite mug.

Homemade Stories Water Bottle
Wood-grain stainless steel 17 oz. water bottle with a vacuum cap.
"Don't Tread. Don't Float. Never Sink. Swim." - From Homemade Stories #55 Swim
Homemade Stories T-Shirts
Your choices of Homemade Stories T-shirt. We will get your style, color, and size after the campaign. Printed on Bella Canvas.
via GIPHY
Homemade Stories Detroit Box
A curated collection of Detroit stuff, also includes tee, mug, and water bottle.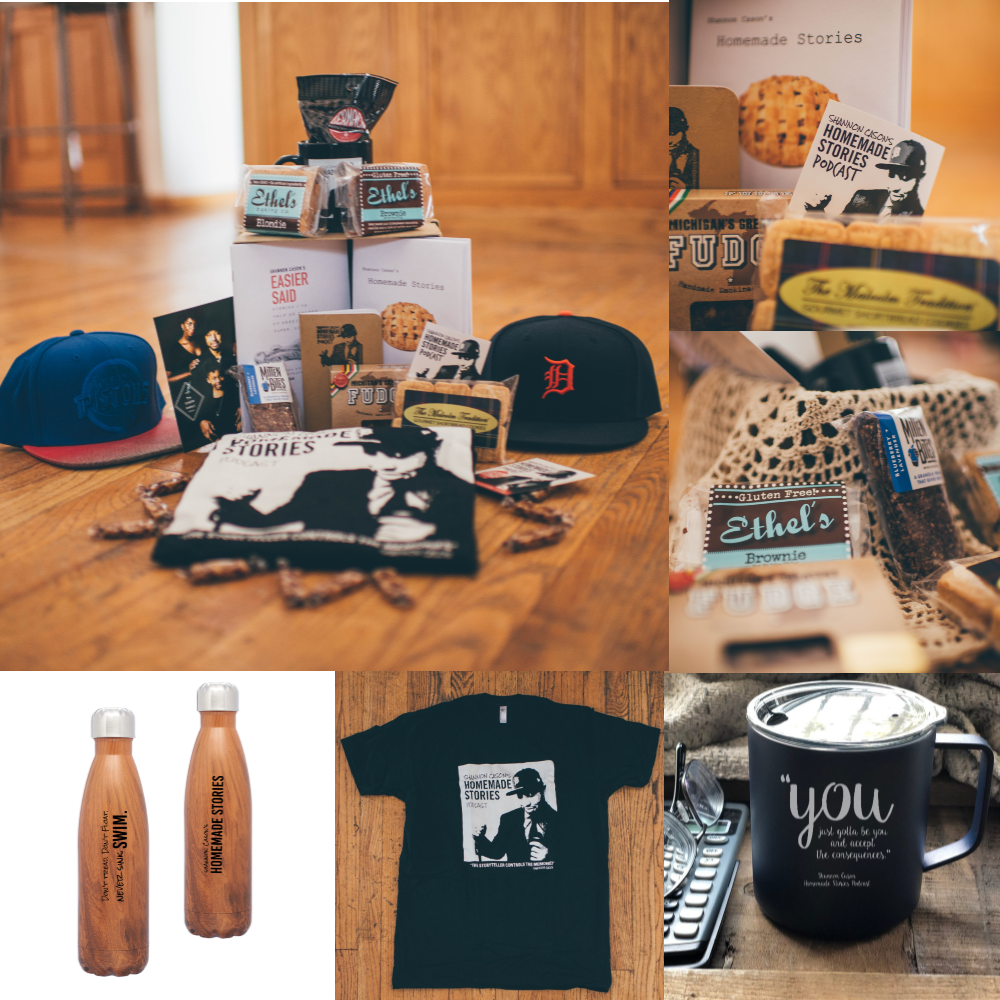 One-on-One Storytelling and Podcasting
I'll help you craft a story or help you get started on your podcasting journey.
This is a series of 4 online meetings. It will require work on your part. I will help craft a story with you or help you to jumpstart/revamp your podcast. I've worked with Spotify, Uninterrupted, Downtown Detroit Partnership, U of M, and many others.
Sponsor an Episode with a Mid-Roll Ad
Promote yourself, your cause, or we can come up with something cool to talk about.
Homemade Stories has a diverse and sizable audience. The podcast has been active for over 10 years with evergreen content. This midroll audio will be 30-60 seconds.
Some restrictions apply (meaning nothing that hurts anyone).
Hosting / Performance / Workshops
I'll host your show or tell a story at your scheduled event or conduct a storytelling workshop with your organization.
This is a discount from the standard rate. Travel and lodging are additional. Great for storytelling shows, community organizations, and non-profits. I've worked with Spotify, Uninterrupted, The Moth, schools & universities, and even a family in a Portland living room too. Let's make it happen!
Thank You to All the Friends of Homemade Stories!
And thank you to Lagunitas Brewing Company, Samson Technologies, Podcast Movement, and the John S. & James L. Knight Foundation for their continued support.
Campaign video by Justin Milhouse - Thank you!