Sarah is 9 years old. Her sister Remas is 10. Sarah was born without her left hand and she doesn't let that get in her way.

Do you care about Gaza's Children?
Here's a solid, secure non-governmental way to help — safely, with integrity, and in full compliance with all U.S. rules and regulations.
Please contribute now
or Launch your own campaign!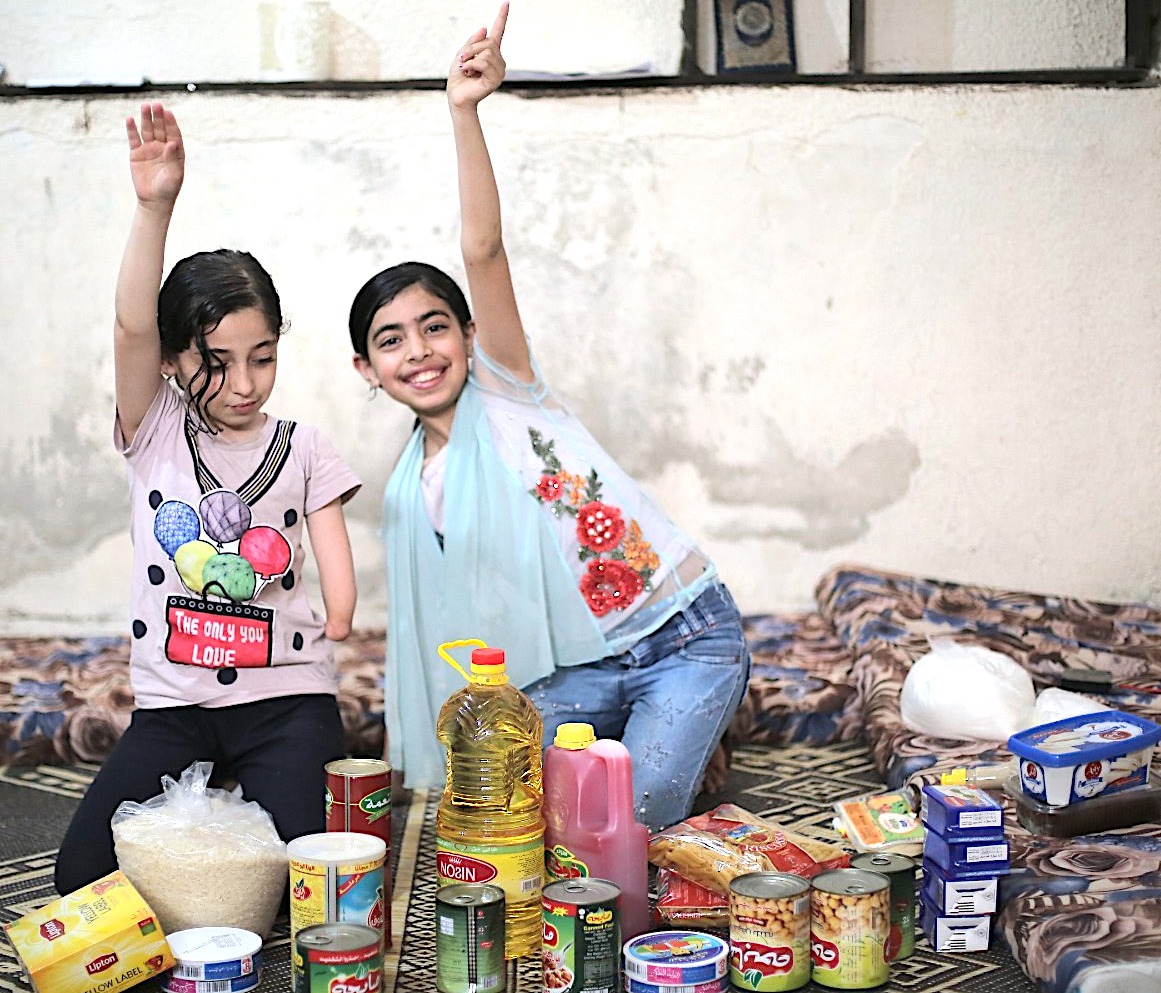 #GazaAidMessage
On January 31, 2019, the U.S. Government cut all humanitarian aid to Palestinians. All food, medical aid, and education aid to the UN and through USAID was stopped — but Israel's blockade of Gaza did not stop. This 12th year of blockade leaves over 55% of the population in Gaza unemployed, with over 75% for anyone under the age of 30. Poverty is overwhelming.


Thanks to hundreds of donations in the past two months, Rebuilding Alliance and our four Palestinian Non-Governmental Org (PNGO) partners successfully delivered food and clothing to 430 families in Gaza just before the Eid. That's just a start.

We know how to do this because for the past three years, our PNGO team has been delivering 35,600 Nur al-Amal / Lights of Hope through the blockade to Gaza's children, personally. Rebuilding Alliance's Executive Director was granted a permit that allowed her to travel to Gaza three times in 2018. She was able to go there to meet with our staff, our PNGO teams, and the families to see for herself.
Through the solar lights, their poverty became visible — we knew we had to do more. We did a pilot project to be sure this is doable — it is.
Your donation will help bring joy and health
to Gaza's children, 

opening a door for additional support and service
through the care and concern 
of RA's PNGO partners
and an expanding network of
people like you,
who care



Our Timeline & Track Record
Our program brings aid to families in great need through a voucher program for clothes and a deliver program for food boxes. Our team of four Palestinian NGO Partners put the program together with care. Here's our track record:
Last year, Rebuilding Alliance learned how to safely transfer money to our Palestinian NGO partners to successfully build a food voucher program to help a total of 200 families in need, in accordance with all U.S. regulations.
To reach families in dire need, Rebuilding Alliance continues our long-time partnerships with four Palestinian Non-Governmental Orgs (PNGOs) including the Women's Program Center-Rafah, the Al Amal Center for Rehabilitation, the Youth Vision Society, and the Al Basma Club for the Disabled. These PNGOs choose families in their circle who are greatest need.
Our PNGO partners selected the vendor in a fair bidding process, RA then confirmed that the owner meets the US Treasury Dept requirements, and then our PNGO Partners provided families with vouchers so they can choose clothing for their children.
Endorsement: Because of solid results last year, our four Palestinian NGO partner teams in Gaza were selected by the Jordan Hashemite Charities to distribute food baskets to 250 families each. Our Palestinian NGO partners did this in early May, as Ramadan began, just after the devastating bombings.
About Rebuilding Alliance
Founded in 2003, Rebuilding Alliance is an American 501(c)3(h) nonprofit dedicated to advancing equal rights for the Palestinian people through education, advocacy, and support that assures Palestinian families the right to a home, schooling, economic security, safety, and a promising future. Our life-affirming vision: To realize a just and enduring peace in Palestine and Israel founded upon equal rights, equal security, and equal opportunity for all.

Rebuilding Alliance's work in Gaza began in 2003, with the Rachel Corrie Rebuilding Campaign in Gaza. Rachel Corrie's parents, Cindy and Craig Corrie, were our founding board members.
_______________________________________________________________________________

More ways to help!
Please give and spread the word to your friends and family. Use #GazaAidMessage to share on social media.
Click the 'Start Your Own Campaign' button to create your own #GazaAidMessage campaign to help
If you would like to volunteer or join RebuildingAlliance as an intern in Burlingame California, please email us at Contact@RebuidlingAlliance.org
If you would like to volunteer in the West Bank, Jerusalem, or possibly even in Gaza (yes!), please email us and send your resume.

Thank you!